Competitiveness bottleneck
According to the Ministry of Industry and Trade (MoIT), nearly 90 percent of mỏe than 5,000 supporting industry enterprises, mainly in fields of mechanical engineering, textiles, garment, footwear and component production, are still small and medium sized in terms of capacity.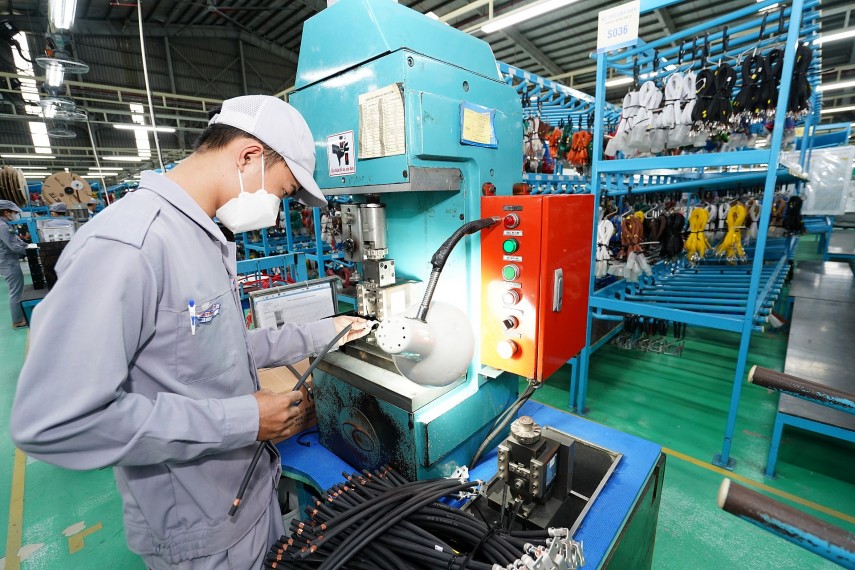 Pham Thanh Tung from the Department of Supporting Industry under the Vietnam Industry Agency (MoIT) said that Vietnamese industry is hindered by the low localization rate. For example, in the electronics industry, local firms provide only 5-10 percent of the required material and components. In the automobile industry the localization rate is slightly higher, 7-10 percent, and 45-50 percent in the textile and garment, leather and footwear industries.
In the field of technology, over 30 percent of enterprises are currently using fully manual control equipment, over 50 percent use semi-automatic equipment, just over 10 percent use fully automated equipment, and less than 10 percent use robots in production lines.
"Supporting industry enterprises lack resources for innovation, and are incapable of supplying components and spare parts of high technology content and complex techniques to participate deeply in the global production chain," Tung said.
Tran Thi Lan Anh, Secretary General of the Vietnam Chamber of Commerce and Industry (VCCI) said, most supporting industry enterprises have not applied international standards or common production management tools. Of those that have done so, only about 20 percent have ISO 9000 certification, nine percent have ISO 14000 certification, and more than 20 percent have implemented 5S, while only 1-2 percent having applied other tools such as Lean, 6 sigma, or TQM, and TPM.
Policies needed
Although Government Resolution 115/NQ-CP to promote support industries came into effect more than two years ago, experts say specific policies, such as the Law on Supporting Industry, are needed to enhance self-reliance of domestic manufacturing.
Nguyen Hoang, chair of the Hanoi Association of Supporting Industry Enterprises, says the Law on Supporting Industry must be drafted quickly and submitted for National Assembly approval. "When the law takes effect, state management agencies and associations could immediately support the enterprises in terms of capital, labor, factory infrastructure, as well as linking their output with multinational corporations operating in Vietnam," Hoang said.
Experts say supporting industry has a particularly important role in ensuring the industrial sector's development, reducing dependence on imports and fluctuations in the global economy, expanding opportunities for foreign investment and developing domestic small and medium enterprises.
Experts expect the National Assembly's early approval and promulgation of the Law on Industrial Development, which consists of specific policies for the supporting industry to promote the development of Vietnamese enterprises. The law has been submitted to the NA Standing Committee for its 2023 legislative schedule in October.